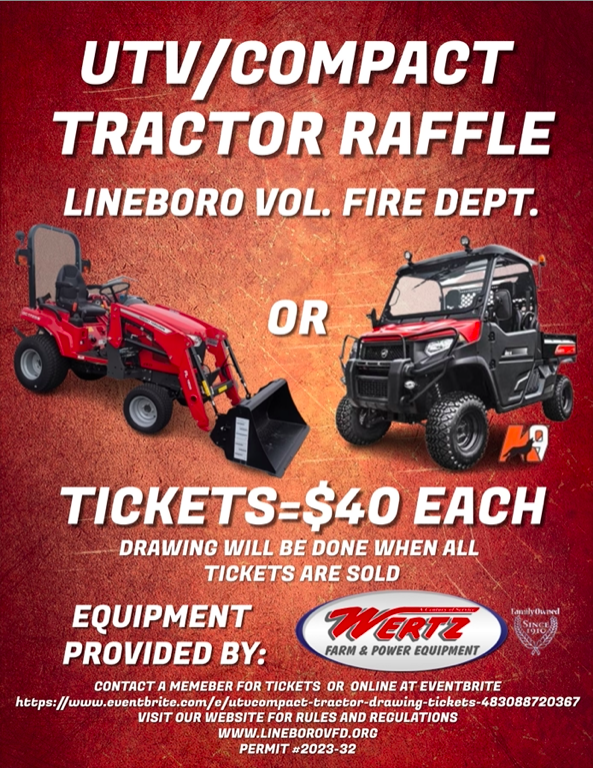 CLICK HERE TO PURCHASE TICKETS
1,000 CHANCES TOTAL TO BE SOLD
T?ICKET- 40$ EACH
D?RAWING WILL BE AFTER ALL TICKETS ARE SOLD.
EQUIPMENT PROVIDED BY: W?ERTZ FARM & POWER EQUIPMENT
RULES/TERMS:
Each ticket will be a donation payable through the credit/debit card link provided
Once all tickets are sold, the winner will be drawn on Facebook Live.
Must be 18 years of age to play.
All State of Maryland and Federal tax laws apply.
Order confirmation will be emailed after purchase with a confirmation number.
Out of state winner responsible for picking up the item and/or shipping cost.
If you do not receive an email, please check your junk folder. Emails are occasionally slow, as long as you receive an order number your purchase was successful from Eventbrite.
Ticket/Order confirmation number must be present to claim prize.
If you don't claim your winning within thirty days, the item will become Lineboro Volunteer Fire Department property.
N?O REFUNDS/ ALL SALES FINAL